Cartoon Crack-Ups features seven episodes from each of one Hanna-Barbera show, The Flintstones, The Jetsons, Scooby-Doo, Where Are You?, Huckleberry Hound, Yogi Bear, Pixie and Jixie and Top Cat.
Episode selection
The Flintstones - "The Swimming Pool"
The Jetsons - "A Date with Jet Screamer"
Scooby-Doo, Where Are You? - "Jeepers, It's the Creeper"
Huckleberry Hound - "Spud Dud"
Yogi Bear - "Bear Faced Disguise"
Pixie and Dixie - "Heavens to Jinksy"
Top Cat - "Maharajah of Pookajee"
Gallery
Unknown
VSTM Menus
Video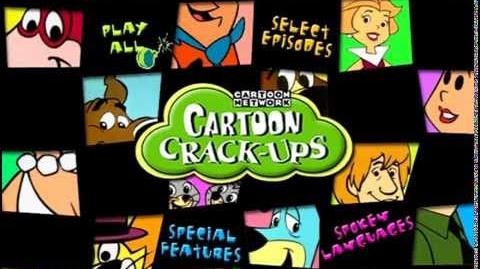 Ad blocker interference detected!
Wikia is a free-to-use site that makes money from advertising. We have a modified experience for viewers using ad blockers

Wikia is not accessible if you've made further modifications. Remove the custom ad blocker rule(s) and the page will load as expected.