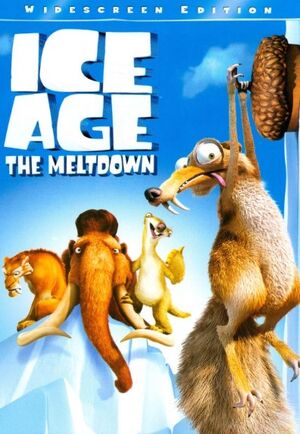 Ice Age: The Meltdown is the 2006 sequel to the animated film, Ice Age.
Game Menu feature cheat sheet
The games have been made tough to get very well on them. This guide will help you win the DVD games provided on the disc using the DVD remote.
Sid's Soccer Challenge
Sid's goal is to hit the soccer ball into the net before the dodo goalie catches it. Once a round with the soccer is in the net before the dodo gets it, a player will earn a point; if not, then a point will be lost and the dodos will cheer for the goalie. The targets vary since they don't get much attention to the player.
Round 1: Left
Round 2: Left
Round 3: Top Left
Round 4: Top
Round 5: Right
Round 6: Right
Round 7: Right
Round 8: Top Left
Round 9: Top Left
Round 10: Top Right
Any other correct direction besides this one will result in confusion.
Important: If you play again from the screen with values lower than ten or success, it will be randomized until you exit and re-enter.
Ice Age Factoid Meltdown
Questions
How many times is Sid's name mentioned in Ice Age: The Meltdown?
How many eyeballs does an upside down Sid see staring at him and he's carried away?
How many hairs get burned on Sid's head when he's sacrificed into the lava pit?
How many times does Scrat lose his acorn or miss grabbing the nut in the entire movie?
What is the greatest number of acorns Scrat holds at one time in the film?
How many chunks of a falling iceberg almost hit Scrat as he tries to get his acorn?
Unused commands
The FBI Warning menu 13 has 2 unused commands spotted which leads to title 68 after the gprm is set to 99 in mov.
Gallery

This DVD contains more than 30 titles present on disc. This disc title has 68 titles, please go to
this subsection
for a gallery of DVD titles present on disc.
Ad blocker interference detected!
Wikia is a free-to-use site that makes money from advertising. We have a modified experience for viewers using ad blockers

Wikia is not accessible if you've made further modifications. Remove the custom ad blocker rule(s) and the page will load as expected.