Planet 51 is an Spanish science fiction comedy film made for alienatic adventures with Chuck Baker who lands on Planet 51 with his ship.
Back Cover Summary
When Chuck the astronaut (Dwayne Johnson) lands on a distant planet filled with little green people, he is surprised to discover that we are not alone in the galaxy. But he gets the shock of his life when the residents of Planet 51 mistakenly believe that his presence is the start of an alien invasion of the human kind! Luckily, Lem (Justin Long) quickly realizes that Chuck is friendly and makes it his personal mission to help him return safely to his ship.
Scene Selections
Blu-ray
Special Features
Exclusive to Blu-ray "Target 51" Game with optional iPhone controller App download from iTunes!
Planetarium - The Voice Stars of Planet 51
Extended Scenes
The World of Planet 51 - Explore the Sights and Sounds of Planet 51
Life On Planet 51 - Behind-the-Scenes Featurette
Music Video Montage
Animation Progression Reels
Gallery
DVD & Blu-ray Covers
Auxdata
sound.bdmv
Meta
DL
Jar
Sprites
Sound effects
Stream
Digital Copy resources
VSTM Menus
DVD Jacket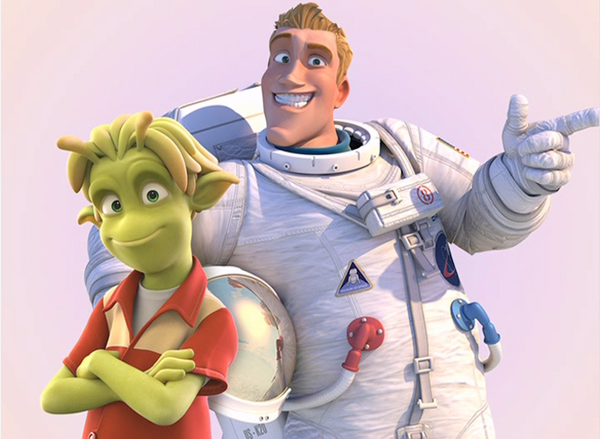 Goofs
On the Ship landing Animation Progression Reel scene featurette, Eckle's mother's legs, thighs, pudendal cleft, pubic mound and the outer labia can be seen when Eckle is viewing the comic book on the pre-animation shown on the top left. These frontal genitalia parts revealed in that moment are present on the featurette (which are originally not meant to be shown). This is likely because the skirt is missing from the alien woman even though the button to it is still visible.
Ad blocker interference detected!
Wikia is a free-to-use site that makes money from advertising. We have a modified experience for viewers using ad blockers

Wikia is not accessible if you've made further modifications. Remove the custom ad blocker rule(s) and the page will load as expected.