I Choose You! Pikachu is the first Pokemon DVD and VHS released by Viz Media in 1998.
Back Cover Summary
Discover the amazing world of Pokemon!
To become he best Pokemon trainer in the world, Ash Ketchum is determined to capture all 150 of these incredible creatures. And with the help of Pikachu, his very first Pokemon. Ash quickly learns that becoming a Pokemon master is the challenge of a lifetime!
After a bumpy start, Ash and Pikachu work together as a team - just in time to foil Team Rocket's Pokemon-stealing schemes. And once Misty joins up with our heroes - the excitement never ends! You gotta catch all the action as Ash and company take us on an inredible Pokemon adventure!
Scene Selections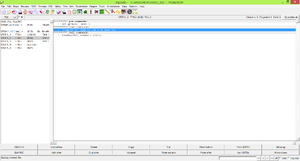 The DVD has a command that is intended to jump to the title after the title with logos and the FBI warning on the 2nd title's post commands. To make it to where it will jump to the chapter selection menu instead of the title first, rip the DVD using a piece of software like DVDDecrypter or DVDShrink without re-compression. This should be done because the original DVD cannot be edited by the software alone. After that, retrieve PGCEdit from the website and locate the folder called "POKEMON" if the DVD folder was created during the ripping process.
Go to title 2 in the DVD's VIDEO_TS and double click on the command "(JumpVTS_TT) Jump to TTN 1 in this VTS" in the post commands section. Hover over the "Jump To..." section, hover over "VSTM Menu in same VTS" and select "CallSS-VSTM". To test it, switch to trace mode and click on the ->>>Run button.
Gallery
Other covers
VSTM Menus (DVD Only)
Title (DVD)
Title (VHS)
Miscellaneous