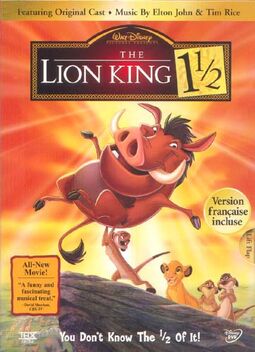 The Lion King 1 1/2 is a 2004 American Direct-to-Video animated musical buddy comedy-adventure feature film produced by Walt Disney Pictures and DisneyToon Studios. It is the third installment in the Lion King series, and follows the warthog/meerkat duo Timon and Pumbaa in their adventures before, during and after the first Lion King film. It was released on DVD and VHS by Walt Disney Home Entertainment on February 10, 2004.
Ad blocker interference detected!
Wikia is a free-to-use site that makes money from advertising. We have a modified experience for viewers using ad blockers

Wikia is not accessible if you've made further modifications. Remove the custom ad blocker rule(s) and the page will load as expected.